L-Series Z33 6Spd Transmission Adapter (03-06 VQ35DE)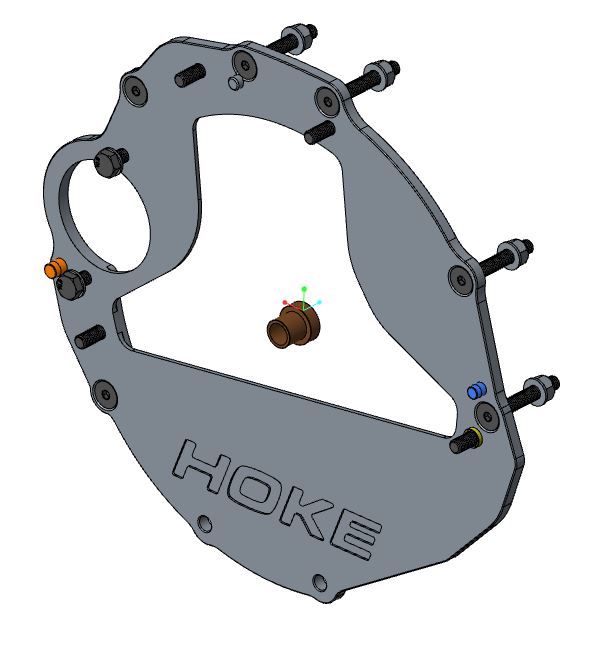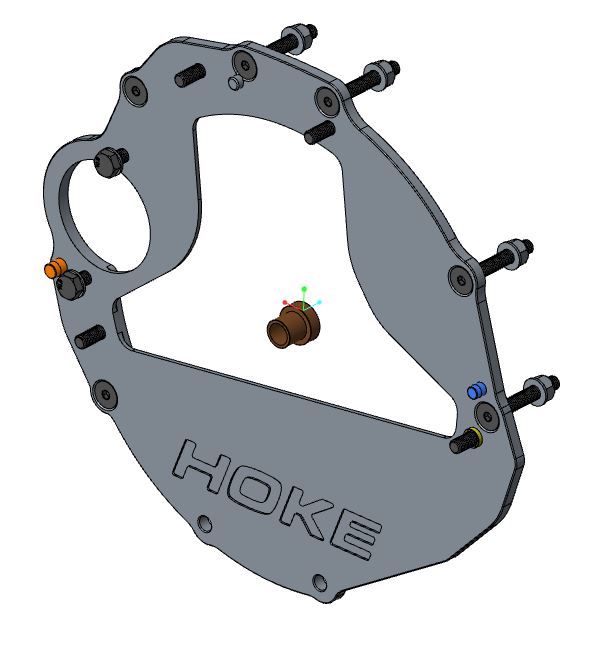 L-Series Z33 6Spd Transmission Adapter (03-06 VQ35DE)
** All components in stock, 6 kits left as of 7/8/19
** Transmission mounts and shifters only available with kit purchase unless pre-approved over email. Otherwise orders will be canceled.
**Please select UPS shipping upon checkout. For international inquiries and any other questions please email us at Hokeperformance@gmail.com.
This kit allows you to bolt on the famed CD00# transmission without out any transmission disassembly or machining. These close ratio 6 Speed transmissions have a great feel and a proven track record for holding big power. Use with any 2003-2006 VQ35DE manual transmission, found used or new through the dealership.
Please review the product development page for information regarding this kit:
L-Series 6 Spd Development
Basic Kit (1015USD)
Adapter Plate - CNC Macined Steel, Yellow Zinc Plated

Alignment Pins - SS, Engine and Trans Side

Pilot Bearing - Bronze extended for adapter offset

Flywheel - Lightweight Steel with required offset to run L series clutch (18lb, 25% Mass Reduction)

Flywheel Bolts - New OE

Clutch Bolts - High Grade Metric Hardware

Adapter Mounting Hardware - High Grade Metric, Yellow Zinc Plated

Trim Fixture for Starter Nose - 3D Printed
Options:
240z Transmission mount - Powder coated Black, Isolator not included - 335USD

260/280z Transmission mount - In development, not available yet - 335USD

Braided Teflon Clutch Line - 100USD

Driveshaft - 3" Steel, balanced, Made to Order by 'The Driveshaft Shop' - 380USD, 3-4 Wk Lead Time

CBF Rear Mount Shifter - 375USD
Other Parts Required:
280zx Starter - Gear Reduction, available from local auto parts store (See product dev page for more information)

350z Transmission Isolator (if intending to use Hoke Performance transmission mount)
FAQ's
Does the transmission need to be disassembled?

Are any modification required on the transmission?

No! Well almost none…you must grind a small portion of the bell-housing to make clearance for the starter nose. A jig is provided to make this really easy, all you need is a die grinder, carbide burr, and maybe 10 minutes.

Are any modification needed to fit the 6 speed transmission in the car?

Yes, the CD transmission is quite large! The factory transmission mounts must be cut out of the transmission tunnel. This is a messy but fairly easy task, they should be smoothed down and undercoated to prevent rust.

Exhaust will also highly likely need to be modified. This is easier on turbocharged cars where a 3" down-pipe can be routed, however modifying NA header is more complex. Feedback from the Z Car Garage is the Pacesetter headers fit the best and can be modified to fit by an exhaust shop.

Does the new transmission mounting cross-member bolt to the factory location?

Since the factory mounts in the transmission tunnel must be removed for clearance the new transmission mounting cross-member bolts directly to the frame rails. Shims are provided to set the transmission angle and we have designs the mount to provide maximum exhaust clearance.

Does the shifter come out at the stock location?

Yes, with the CBF rear mount shifter!

These have been custom made for us with the correct shifter offset.

Is the transmission mount isolator included?

No, the new mount is designed to work with the factory 350z isolator. You may use the OE rubber piece any any of the many aftermarket polyurethane units that are available.

What clutch setup is required?

V2 Kits, shipped after November 2018 are designed to use a 350z clutch. This change was made to allow for wider selection of clutches (and cheaper OE options). A 280zxt clutch (240mm) may also work with the same flywheel spacing, this will be confirmed and updated within several weeks (today is 10/15!). Z/ZX Non Turbo clutches (225mm) will NOT work.

The S30 master cylinder may be used, if you order a clutch line it will connect your stock master cylinder to the 350z slave using braided PTFE hose and nickle plated banjo hose ends.